A leading-edge solution effective, economic, aesthetic and sustainable for building coating facades.
Facade coating
Internal coating spaces
Renovation coating facades for renovation
Covering columns
Balcony facades
Finishing covers
Jutting out and shelter
The composite panel consists of a thermoplastic resin (polyethylene) core bonded between two aluminum. Externally consists of an outer layer of aluminum alloy 5005 H42/H44 coated with PvdF (polyvinyl fluoride), three-layer that provides resistance to corrosion and aging.

The combination of these materiales gives to composite panel excellent mechanical properties: high level of impact resistance, rigidity and thoughness despite its light weight.
The main features of the STRUGAL Composite Panel are:
High resistance to corrosion and weathering
High thermal and acoustic insulation
Excellent mechanical properties
Special Flatness
Lightweight
Easily bendable
Rapid assembly
The composite panel is also available with fire retardant option under the name FR (Fire retardant), which guarantees a response to a hypothetical fire (Class B according to EN 13501).
The Ventilated Façade is a building enclosure system that allows placement of STRUGAL Composite Panel and depending on the TYPE OF MODULATION we have four clamp systems developed.
Ventilated facade is a building enclosure system which allows placement of STRUGAL Composite Panel separated by a thermal insulation structure. An air corridor between the panel and the facade achieving a strong thermal and acoustic insulation as well as an effective protection against the combined action of rain and wind.


STRUGAL Composite Panel quality
In Stac, Composite Panel manufacturer, we have a full equipped laboratory to make all necessary tests to ensure the highest quality in our Composite Panel. Every STRUGAL Panel go through teh following quality controls:
Aluminium adhesion (peeling)
Dimensional controll
Fire reaction test
Test on the laquered face
Brilliance test
Hardness vby scratching
Impact-elasticity tests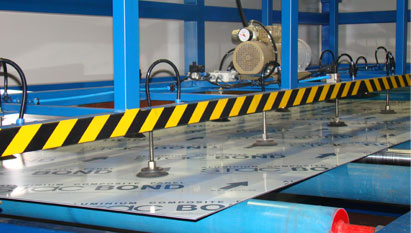 STRUGAL Composite Panel (STACBOND) also grants de Technical Suitability Document (DIT) which is a voluteer document issued by the Instituto de Ciencias de la Construcción Eduardo Torroja (IETcc), and that contains a favourable technical assessment about the suitability of the product for being used in construction materials, systems or innovative construction process. The DIT authorisation is base don the favourable behaviour of the product in the forecasted use concerning the following requests:
Mechanical resistance and stability
Security in case of fire
Hygiene, health and evironment
Security of use
Protection against noise
Energy savings
The approval takes into account the favourable behaviour faced with the global exigeances of durability and also the maintenance by the manufaacturer of the self-control and production conditions and its commitment to offer technical assistance when using the product in the constructions.
El panel Composite STRUGAL admite los siguientes mecanizados y tratamientos:
Corte
Realizable con CNC, mural o fresadora portátil. Es posible el corte en recto, curvo o en ángulo, siempre que se disponga de las herramientas adecuadas.
Fresado
Realizable con CNC, mural o fresadora portátil. El fresado permite el posterior plegado de las piezas. Se utilizarán herramientas de fresado de 90 o 135º en función del pliegue requerido. Para conseguir la medida deseada, el pliegue deberá producirse en el eje del fresado. Un plegado incorrecto puede alterar la medida final del panel hasta en 4 mm
Taladro
El panel admite múltiples tipos de perforados, siendo aconsejable utilizar una herramienta adecuada para conseguir un acabado de óptima calidad. Consultar formas y tamaños.
Punzonado y troquelado
El panel permite punzonarse y troquelarse con maquinaria convencional. Si se observan cortes con cizalladuras se recomienda el afilado de la herramienta. Es normal un ligero hundimiento en la placa exterior de aluminio. Consultar formas y tamaños.
Doblado
El doblado en frío se realiza mediante curvadora. Es recomendable proteger la superficie del panel para evitar dañarlo. El tiempo de recuperación del panel es mayor que la del aluminio.
Curvado
El doblado en frío se realiza mediante curvadora. Es recomendable proteger la superficie del panel para evitar dañarlo. El tiempo de recuperación del panel es mayor que la del aluminio.
Remachado y atornillado
Es necesario tener en cuenta la dilatación lineal del panel. Se recomienda el uso de tornillos normales para metal en acero inoidable. Los remaches a usar serán de 4.8 x 16 mm. y cabeza de 16 mm. y tornillería recomedada según fabricante para fachadas. Para realizar el remachado se necesita una remachadora de control de presión o llave dinamométrica, un tope de control de presión. Todo taladro necesita un centrador
Pegado
Los paneles se pueden pegar utilizando adhesivos para metales. En aplicaciones para interiores se puede utilizar cinta de doble cara. La forma de aplicación es la siguiente: se aplica un limpiador para quitar la suciedad y, a continuación, se aplica el "PRIMER" para seguidamente dar un cordón de adhesivo, junto con la cinta de doble cara, cuya función es mantener el espesor necesario del adhesivo para poder absorber las posibles dilataciones, al igual que sujetar la placa mientras se produce el secado de dicho adhesivo.
STB- 401 Blanco Ártico
STB- 413 Blanco Puro
STB- 420 Blanco Ral 9010
STB- 485 Beige
STB- 439 Gris Claro
STB- 417 Gris Sombra
STB- 478 Gris Antracita
STB- 415 Negro
STB- 494 Marrón
STB- 430 Natural Blue
STB- 412 Azul Ultramar
STB- 495 Naranja
STB- 498 Rojo Intenso
STB- 488 Granate
STB- 493 Amarillo Tráfico
STB- 484 Yellow Green
STB- 487 Verde Oscuro
STB- 400 Blanco Metálico
STB- 402 Gris Metálico
STB- 403 Plata Metálizada
STB- 405 Champagne
STB- 406 Bronce Metálico
STB- 407 Titanio Metálico
STB- 408 Carbono
STB- 409 Azul Metálico
STB- 410 Verde Jade
STB- 411 Cobre Metálico
STB- 454 Oro Metálico
STB- 483 Dark Grey
STB- W01 Nogal
STB- W02 Caoba
STB- W03 Sunset Teak
STB- S10 Golden Pearl
STB- S12 Stellar Blue
STB- S08 Sunset
STB- E02 Anodic Light
STB- E03 Anodic Dark
STB- E01 Corten Steel
STB- 449 Brushed
STB- M01 Mirror
STB- M02 Dark Mirror
Available any color from RAL Chart under command.
En STRUGAL somos fabricantes de Panel Composite.
La inversión en las más modernas técnicas de fabricación de Panel Composite y el buen hacer de nuestros profesionales, han hecho posible que el Panel Composite STRUGAL ofrezca tanto a Arquitectos como a Diseñadores posibilidades ilimitadas de creación de formas.
10.000 m2 de instalaciones cubiertas.
Capacidad de fabricación de 3200 m2 de panel composite al día.
Amplia gama de colores.
Atención personalizada mediante departamento propio.
Centro de mecanizado de última generación para dar servicio a todos nuestros clientes.